Thank you very much for your support. Open as usaul.

If you would like to consult with Skipe, please contact us.
Mr. Hideo Hanai, Clinical Psychologist(C.P.)in Nagoya is
conducting caring and compassionate psychotherapy.
Psychological counseling for Japanese and foreigners
using Behavioral Cognitive Therapy, Brainspotting Therapy
EMDR Therapy and USPT Therapy.
Mr. Hideo Hanai began counseling for English speaking
foreigners in April 2016.
I worked as a school counselor in Aichi and Gifu prefectures for 10 years.
I currently engages in consultation of Mizuho CBT Counseling Room.

Every Wednesday I work for Narai Psychosomatic Medecine (Narai Sinryounaika) in Okazaki City.
PTSD, Agoraphobia,Panic disorder,
Trauma and Stressor-related Disorder,Inappropriate Parenting,
Obsessive Compulsive Disorder(OCD),
Adjustment Disorders, School Non Attendance,
Depression and Anxiety, Social Anxiety Disorder
Traumatic experience related to mental disorders.
Please feel free to contact C.P. if you have an issue to discuss. I would be pleased to meet you and conscientiously lend a helping hand to you or to those close to you in need.
Counseling along with medication promotes recovery.
return to Home Page
Mr. Hideo Hanai graduated from Aichi University of Education where I obtained teacher's license in English(B.A.).

I worked as a teacher of English at senior high school for 38 years.
I majored in education and psychology at Meisei University(B.A).

I specialized in clinical psychology
in graduate school of Aichi Gakuin University (M.A.).

I qualified as certified clinical psychologist (Regulation No. 10015) from Foundation of the Japanese Certification Board for Clinical Psychologists.
I worked for schools as a school counselor at elementary schools,
junior high schools and senior high schools in Gifu and Aichi prefecture.
I am working for psychosomatic clinic in Okazaki city on Wednesday
and
Mizuho CBT Counseling Room in Nagoya city
on Sunday toTuesday, Friday to Saturday.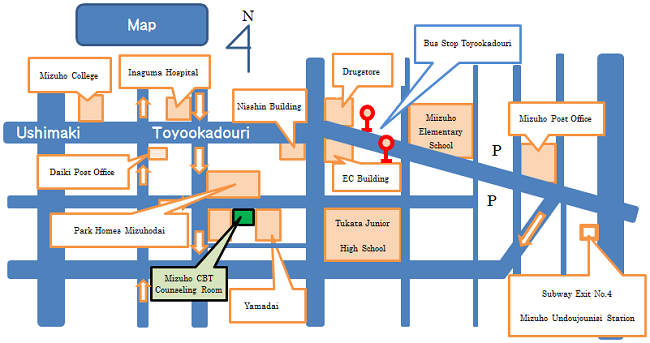 The office is a 10- minute walk from Mizuho-Undojo-nishi station
on the Sakuradori line of Nagoya City Subway.
A case via Nagoya City Subway line:
Nagoya City Subway is available between Nagoya station
and Mizuho- Undojo- Nishi station.
Mizuho-Undojo-Nishi station is less than 20 minutes
from Nagoya station ( JR line, Kintetsu line, Meitetsu line).
We have one parking spot. Parking spot address is
zip-code 〒467-0822 Daigicho 6-23-1 Mizuhoku Nagoyashi Aichiken.
The parking spot is located at the same site as the office.
The office is next to supermarket Yamadai.
Please come to my office looking at Tukata chugakkou (Nagoya city Tukata junior high school) and supermarket Yamadai as a guide to the location.
Sunday, Monday, Tuesday, Friday, Saturday.

Closed : Wednesday,Thursday

Open even on public holidays.


Temporary holiday
The room may be closed due to academic conferences and workshops.
We will inform you of temporary holidays.
Please look at the top of this Website.
10:00 - 18:00
First session requires 12000 Yen for hearing and assessment .

After first session you can choose the following.

60 -70minutes session requires 8000Yen.

90 -100minutes session requires 10000Yen.

Document Fee: Medical Information Form :5000Yen

Medical information provision form

C.P. should protect confidentiality of his clients' case.
I'd like to accept your call or e-mail for reservation.
Regarding reservation
I would be grateful if you could let me know
you symptoms with e-mail.
Regarding English during the session
Owing to insufficient listening ability, in roder to grasp
the symptoms accurately I may have you write the symptoms and so on.

Referral to a doctor
Depending on the assessment I may ask you to see a doctor.
I will also creat a letter of introduction.
Please call
090-7915-5559

When you make a booking for counseling,
let me know your name & phone numbers and your availability like the following,
first choice: 15:00-17:00 on Mon 18 July
second choice: 13:00-16:00 on Thurs 21 July
third choice: 10:00-12:00 on Fri 22 July
I will tell you about my availability at once.

If you'd like to cancel your appointment,
please let me know as soon as possible in advance by mail or telephone.
In the case of e-mail inquiry,
the above telephone inquiries example is good guide for you
I will contact you within 24 hours by return mail.
E-mail

I belong to psychology academies. As follows.
Japan association of Behavioral・Cognitive Therapies.
Japan EMDR Association.
Brainspotting Training Institute Japan.

USPT Kenkyukai.
USPT=Unification of Subconscious Personalities by Tapping therapy
Japanese Society of Certified Clinical Psychologists.
Aichi Society of Certified Clinical Psychologists.